When climbing mountains, having the proper equipment is critical. The following guide was created to assist you in preparing for your next mountain climbing experience!
Lightweight, breathable clothing with a high degree of mobility is ideal for mountain climbing. Wool and denim should be avoided at all costs.
Mountain climbing clothing, like hiking clothing, must be flexible and light to allow you to move freely while also preventing excessive sweating.
When mountain climbing, you must bring the following:
Breathable and quick-drying shirt.
A light sweater
A fleece/jacket to keep you warm
A comfortable pair of pants
Good socks (made out of merino wool)
Shoes or boots
A hat
Rain Gear
When it comes to mountain comfort, the idea is to make sure you're both comfortable and prepared. The fabric you're wearing is the most significant part of comfort, as some materials are better for mountain climbing than others. Denim, for example, is a highly heavy and inflexible material; wearing denim pants on a trek is not a good choice. Cotton, on the other hand, does not breathe and holds a lot of moisture, so you'll rapidly be drenched in perspiration if you wear it.
The true challenge is finding a way to balance these two forces. You just need a small amount of clothing to be lightweight and comfortable, yet enough to keep you warm in cold weather. You'll need to employ a technique known as layering to accomplish this.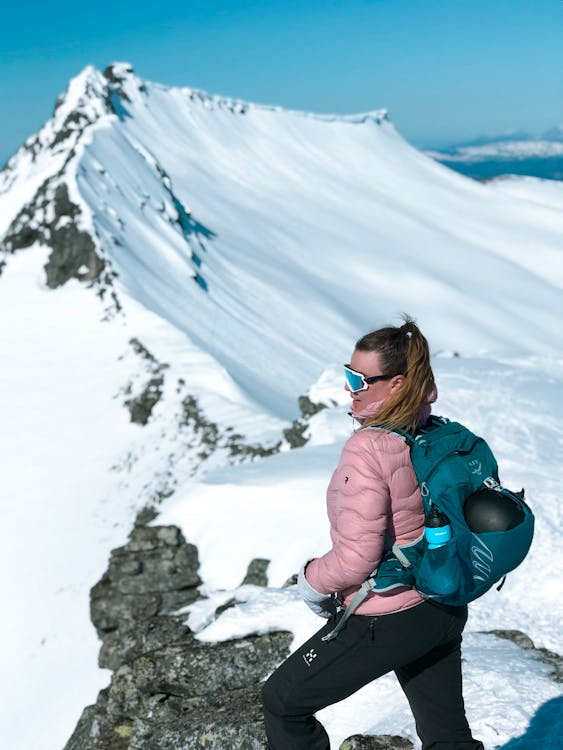 Layering
When you layer, you pack many articles of clothes, each of which provides a distinct level of warmth and protection. This enables you to add and remove layers as needed. 
Layering can be effective, although it isn't always the case. You might be a touch too cold in some settings, but you might be a little too hot if you layer up. If you pile on the layers, you'll be fine. In these situations, you must simply accept the fact that you will be a little uncomfortable. Trying to carry enough clothing to stay at the ideal temperature in every situation will simply add too much weight to your load.
Upper Body
When mountain climbing, the majority of your layering takes place on your upper body. As a result, you'll need to pack a number of alternatives so that you can stay warm no matter what happens.
For three-season mountains( spring, summer, or fall), three different layers are recommended:
A base layer
A mid-layer
A non-active layer
If you're going mountain climbing in the winter, we would recommend bringing an active mid-layer too.
Baselayer
A base layer is a layer that is applied first, and then everything else is applied on top of it. Because your base layer is never taken off, you want it to be as light as possible so that you can wear it no matter how hot it gets.
For mountain climbing, a plain t-shirt is ideal. Long-sleeve shirts can also be useful, especially if you're in a bug-infested location or if you're sun-sensitive.
When it comes to material, the most important factors to consider are comfort and breathability. You want a shirt that will assist keep you cool as much as possible because your shirt will almost surely grow sweaty (especially when your bag is rubbed against your skin). The cut of the shirt is another something to consider. If you're carrying a hefty backpack, some shirts have seams down the back that can irritate you during the day.
Mid Layer
A mid-layer is typically worn during mountain climbing in two scenarios:
When you're walking but aren't expending a lot of energy and the weather is pleasant.
When it's chilly outdoors and you're resting (without exerting any effort), you'll need the mid-layer to keep you warm when strolling or moderately comfortable while standing still.
Non-Active Layer
Once you've stopped moving, put on the non-active layer to keep warm. Not only is it crucial to have a decent non-active layer with you, but it can also be a big role in your safety.
You want something that is both incredibly warm and extremely packable for a non-active layer, and nothing surpasses a nice down jacket when it comes to both characteristics.
Active Mid Layer (For Winter Mountain Climbing)
We also recommend taking an active mid-layer if you're climbing a mountain in the winter. This is another cozy but breathable sweater or jacket for when you're on the go. It should be thick enough to keep you warm, but not so thick that you sweat.
Lower Body
You don't layer as much on your lower body because it's more difficult to put on and take off pairs of pants while you're wearing shoes. This means you'll have to choose the perfect pair of jeans because you'll be wearing them all day.
When mountain climbing, there are two basic layering systems to consider:
One-layer systems
Two-layer systems
One-layer System
A one-layer system is when you only have one pair of pants, as the name says. This type of layering is ideal in the spring and summer when the temperature is going to remain mild. Its benefit is that- It is light and breathable.
Hiking pants are by far the greatest option for a one-layer system.
Two-Layer System
If you're hiking in the winter, or even in the shoulder season, a two-layer system will keep you warm while also preventing snow from soaking your legs. A two-layer system consists of a light pair of thermal underwear worn underneath a pair of insulated, water-resistant pants. This helps insulate your body in cooler weather, but be cautious; it's easy to overdress and end up sweating all day.
Feet
When it comes to mountain climbing, choosing the appropriate footwear is maybe the most crucial decision you'll make. When shopping for shoes, make careful to walk uphill and downhill to see how the shoe fits. Check that your heel doesn't lift too much off the insole when walking uphill, and that your toes don't jam into the front of the shoe when walking downhill.
For mountain climbing, there are four primary types of footwear to choose from:
Trail Runners
Approach Shoes
Running Shoes
We recommend boots as the best type of footwear perfect for mountain climbing.
Socks
Your choice of socks can make or break your ascent. Having a pair that is comfortable, keeps your feet cool, and matches the contour of your foot will keep you from becoming irritated and reduce the odds of blisters forming. Any merino wool hiking sock will probably suffice.
Rain Gear
In the mountains, weather conditions can change quickly, so make sure you have the correct clothing on hand to stay dry when a storm sweeps in.
Accessories
Now that we've covered all of the clothing, here are some other items to bring along: