Rock climbing began as early as the 1700s, mostly as training for larger alpine and mountaineering goals. Eventually, it was seen as a sport in its own right. At first, the goal of rock climbing was simply to ascend to the top of a rock face through any means necessary. This included hanging or pulling on gear that was drilled or hammered into the rock. As climbing gear improved, climbers began focusing on using only their hands and feet on the natural features of the rock to move upwards. Over the past 3 centuries, different types of rock climbing have begun to emerge.
Aid Climbing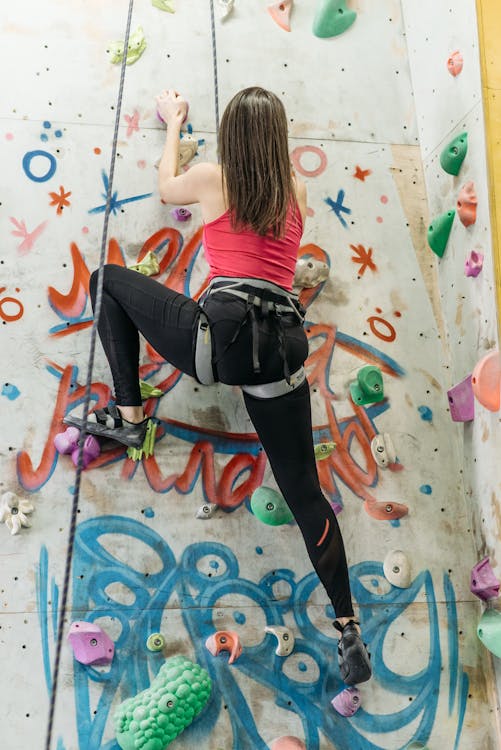 Aid climbing incorporates permanent or removable protection that's placed into the rock to help the climber make upward progress. It's usually reserved for climbs that are too difficult for the lead climber to complete using only the natural rock surfaces. The climber attaches a ladder made of webbing to a protection piece, then stands or pulls herself up on the ladder, then repeats the process. Aid climbers used to hammer pitons into the rock for protection, which permanently damaged the rock. Today most aid climbers practice "clean aid", meaning they use removable protection (cams, nuts, etc.) or permanent bolts that are pre-drilled into the rock. The best way to understand aid climbing is to see it. 
Free Climbing
Free climbing encompasses every other type of rock climbing other than aid climbing. It refers to climbing using only your hands and feet on natural features of the rock to move upwards. Depending on the specific style, various types of gear are used to protect against falling—but never to help the climber move upward. Free climbing breaks down into two categories: roped and unroped.
Roped Free Climbing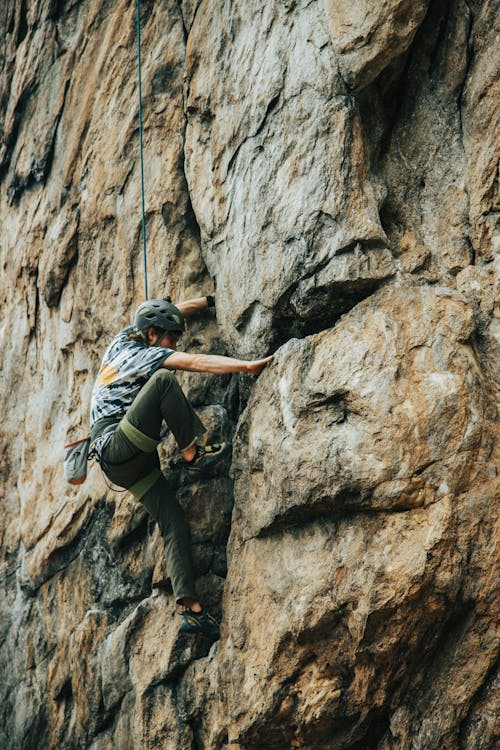 Roped free climbing is climbing with a rope attached to a harness to protect against falls. It has three main categories: traditional, sport, and top rope. Top rope climbing involves building an anchor above the climb before climbing it. Trad and sport climbing are forms of lead climbing, where the climber starts at the bottom of the climb and places protection to clip their rope to as they go up. The type of protection used is the main difference between trad and sport climbing.
Trad Climbing
In Trad climbing the lead climber carries and places all gear necessary to protect against falls. Generally, the following climber will then remove the gear once a section of climbing is completed by the lead climber.  Before the advent of sport climbing in the 1980s, pretty much all free-climbing was trad climbing. While the gear and ethics have changed over time, the basic premise remains the same: the climber ascends a rock face carrying all their own protective gear. As they climb they place pieces of protection into a crack or hole in the rock. Then they attach a carabiner to the protection piece and then their rope clips through the carabiner. This way, if they were to fall, their last piece of protection would stop them from falling to the ground.
Sport Climbing
Sport Climbing is a type of climbing that involves clipping your rope into permanent bolts that are drilled into the rock as protection against falling. Sport climbing focuses on climbing move sequences across a rock that couldn't be protected with removable trad gear because of a lack of cracks, holes, etc. in which to place removable (trad) protection. 
Top Rope Climbing
Top Rope climbing involves setting up an anchor at the top of a climb and running the climbing rope through the anchor and back to the ground. A belayer holds one side of the rope and takes up slack as the climber, attached to the other side of the rope, moves upward. The climber can safely let go of the rock at any point and the rope will catch them, assuming the belayer is doing their job properly. Building a top rope anchor can incorporate bolts, trad gear, or even trees and boulders. It's a safe way for beginners to experience climbing while more advanced climbers might top rope in order to practice a route they want to lead climb. Top roping is very popular at indoor gyms and is a great introduction to roped climbing.
Unroped Free Climbing
Unroped free climbing is climbing without ropes to protect against falls. It comes in two main categories: bouldering and free soloing.
Bouldering
Bouldering is unroped free climbing that takes place on rocks and walls that are low to the ground so that the risk from falls is minimal. Whether practiced outdoors or indoors at a climbing gym, there are usually soft pads called "crash pads" at the base of the climb to protect climbers if they fall. Especially when climbing outdoors, boulderers also have other people help guide them onto the crash pads in case of a fall. It's probably the most popular style of climbing today because of the minimal amount of gear it requires.
Free Soloing
Free Soloing has recently been made famous by climbers like Alex Honnold, although it's been practiced among climbers for a long time. During a free solo ascent, a climber uses only their hands and feet on the rock as protection against falls. Because free soloing is so dangerous, most practitioners only free solo climbs that they've practiced while roped many times.
Which type of Rock Climbing is the best for you?
The world of climbing is incredibly diverse.
From speed climbing to dry tooling, each climbing discipline brings its own challenges and joys.
Although many people picture a sport climber or free soloist when they think of climbing, it turns out that there are many ways to enjoy life in the vertical world.