People tends to get confused with the difference between Mountaineering and Alpinism. So today we have decided to discuss about the differences between Mountaineering and Alpinism. Now the most important question is " What is the Difference between Mountaineering and Alpinism?". Well, the answer to that question would be that mountaineers will climb up and down a mountain several times to acclimatize, but the alpinists traditionally climb the mountain in one continuous 'push'.
You will see that almost everyone will tell you that mountaineering and alpinism are the same thing, rather lots of people use the two interchangeably, and for good reason; both describe the act of climbing technically difficult mountains using a variety of skills like rock climbing, ice climbing, and glacier travel. However, if we study about it in depth, then we will be able to find out that there are subtle differences in the approach taken to get to the summit, such as mountaineering is usually used to describe traditional 'siege' tactics, where the climbers usually go up and down the mountain multiple times before making a push for the summit, whereas, alpinism, on the other hand, focuses on 'fast and light' climbing tactics.
Mountaineering Vs. Alpinism
To make things easier for you, let's break down the difference between the two activities in general terms, before we go into the detailed study about the pros and cons of each approach. If we put things simply then, mountaineering and alpinism are different approaches to the same goal, as both the activities focus on reaching a summit, but the approaches that they take are decently different from each other .
A mountaineering expedition is a slow, methodical, well-provisioned climbing process against a peak and it is often described as a 'siege'. This is the tactic that most people will take for extremely difficult mountains like Cho Oyu or Mount Everest .The mountaineers will set up a 'base camp' where they keep the majority of their supplies and they will climb up the mountain a little bit , say 1,000 meters before retreating back to base camp. A couple of days later they will go up higher , such as 2,000 meters and retreat back again, slowly working their way up and down until they reach the summit. Mountaineers usually does these as these give them certain advantages like acclimatizing to altitude and setting fixed ropes, but sometimes it can also expose them to more dangers. 
On the other hand. Alpinists climb a mountain in a single push, carrying all of their gear along with them. Alpinism is basically more of an 'all or nothing approach' and they usually set fewer camps, carry fewer supplies. The alpinists will spend at least 3 to 5 days on the mountain, which is quite opposed to a full mountaineering siege, which will usually last till months and this lowers their exposure to certain risks, but it is much more physically demanding.
Now, as we have already said that in most cases, you can use the terms interchangeably so if you say that you are going mountaineering in the Rockies, then most people won't assume that you are going to pitch a tent and stay there for months. Now we come to the cases of big mountains, though, the words are often distinct in their meaning, so if someone tells you that they have climbed Mount Everest, they probably took a mountaineering approach to it, however, if they said that they climbed Mount Everest 'alpine style', that mostly means that they opted for less gear and no fixed camps.
So, now is the high time that we discuss about the differences in both the approaches and their pros and cons.
Alpinism Approach
If you want to go back to old times, then alpinism in its purest form is the original mountain-climbing technique. This actually takes us all the way back to 1786, when two Frenchmen named Dr. Michel Paccard and Jacques Balmat climbed Mont Blanc. Alpinism approach is widely considered to be the ascent in mountain climbing, as it gave birth to a whole new sport and the climb was done in a single push to the summit, with no camps set up along the way.
Back then, Balmat and Paccard climbed the mountain alpine style because they didn't know better, but in present days there are three main reasons that you might try to climb a mountain in this alpinism approach, which are as follows:

Practicality: Some mountains are just too small for it to be worth engaging in an all-out mountaineering endeavour so if it can be climbed in a day or two, in these cases alpinism makes more sense.
Safety: In certain instances, alpinism can be the safer approach to climb up the mountains.
Pride: Some rock climbers consider alpinism to be purest form of mountain climbing
Advantages
So, with that being said, now let's discuss about some of the pros of taking an alpine approach to mountain climbing?
Less Risk of Exposure
Alpinists are often described as moving 'fast and light', which means that you are on and off the mountain in a matter of days, whereas mountaineers who will hang around for months on end. As we all know that the less time you spend on a mountain, the less time you are exposed to certain risky situations like avalanches or icefall and if you only pass through a dangerous section once, you have lower chances of getting hit by an avalanche than if you were to pass through it dozens of times as a mountaineer may and for this reason some of the most dangerous mountains in the world, people will acclimatize on a different peak and then attempt the dangerous mountain in alpine approach.
Used on a Wide Variety of Mountains
As we have mentioned above, alpinism approach is more applicable to the peaks that most of us will actually be climbing and only a very few people ever take a shot at Mount Everest. So for this type of mountain, alpinism approach makes more sense.
Cheaper and Takes Less Time
Mountaineering are quite expensive, and everyone does not has a job which will allow them to disappear for months, so in this cases, alpine approach allows you to get up and down in a matter of days, shortening the time you need to take off work and also reduces the amount of equipment you need.
Seen as more 'pure'
This one is not as important as the others, but some rock climbers do see it as a purest form of mountain climbing to attempt it in an alpine approach, without the advantage of fixed camps and repeated climbing. So if these things matters to you, alpinism approach is the way to go.
Disadvantages
However, there are also some disadvantages to taking this alpinism approach!
Harder
Alpine ascents are quite harder than mountaineering ascents because you have to carry more gear, you are absolutely not familiar with the terrain, and you don't have the advantage of fixed ropes.
Therefore all of these factors sum up to mean that alpinism requires a much higher degree of skill and fitness than mountaineering does, where you have less chances of reaching the summit and more chance of something bad happening to you.
Mountaineering Approach
If alpinism approach is known as 'traditional' approach, recalling back to the 1700's, mountaineering is the more famous one and some of history's most earth-shattering climbings, like the first summit of Mount Everest, were done by mountaineering style. While mountaineering, the main aim is to launch a 'siege' on the mountain. In mountaineering you need to set up a base camp and then venture up the peak in small increments, leaving behind gear, camps, and fixed lines after that you go back down, rest, and try again.
Mountaineering helps you to plan your route methodically, do more preparation, and get used to the terrain before and then make the final push for the summit. Even some mountaineering adventures will even use porters to haul gear and set up mountaineering camps.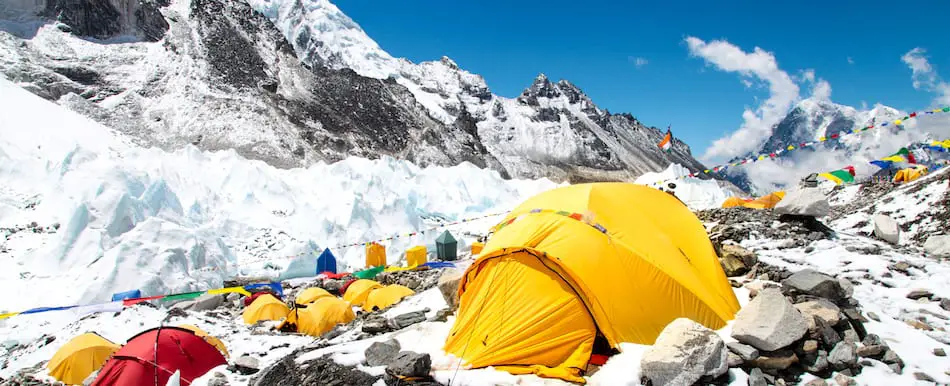 Advantages
So, now lets discuss about some advantages of mountaineering approach.
Acclimatization
The important advantage of mountaineering, especially in larger mountain ranges, is acclimatization which is allowing your body to adjust to the lower levels of oxygen that you find on top most summits and climbing up and down the peak as mountaineers allows you to adapt, so that you will find it easier to breath on your finals summit push.
Less Weight
As you have the options to fix camps and use porters, you will have to take less gear with you when you are actually climbing, which means that you can move faster, pass through more technical terrain, and have a higher chance of reaching the summit.
Ability to Fix Protection
Mountaineers or mountain climbers will frequently leave fixed ropes behind them when they retreat from a mountain, which makes it quite easier and safer to ascend the next time they go up and by doing this the uphill becomes easier and lowers the chance of someone taking a dangerous fall, all of which makes it more likely that you summit the mountain quite easily.
Familiarity with Your Terrain
The more times you go up and down the mountain, the more familiar you become with the terrains, and the fast you can move, which in turn helps you stay safer and increases your odds of reaching the summits.
Essentially, the advantages of mountaineering can be jotted down to that makes it more likely that you will reach the summit.
Disadvantages
However, while this approach certainly has its pros, there are a couple of cons that you should also be aware of:
Higher Risk of Exposure
As we have already said in the alpinism section, that the mountaineering comes with a higher risk of exposure of dangers and this is because you have to climb up and down the mountain several times and any dangerous sections on the route will be passed through over and over again, it will be increasing the odds of an accident happening.
Greater Cost
Mountaineering expeditions are long and are quite expensive because you will need lots of food, lots of time off of work, hire porters, and lots of gear to pitch multiple camps, and make your team climb up and down the mountains repeatedly.
Frequently Asked Questions ( FAQs ):
What is the difference between mountain climbing and rappelling?
Mountain climbing is simply the set of activities that involves ascending mountains all you need to do is simply look at a mountain and decide that you want to get to one of the summits; you might do this by hiking, scrambling, or mountaineering. Whereas, rappelling means to descending down a rock face or other near-vertical surface by using a doubled rope coiled around the body and fixed it to a higher point.
Are rock climbing and mountaineering the same thing?
Rock climbing is a specific activity centered around vertical cliffs, on the other hand, mountaineering is a more holistic sport focused on summiting mountains but rock climbing is considered as a more specific sport than mountaineering.
What makes mountaineering and backpacking different from each other?
Technical Gear may be the most obvious difference between mountaineering and backpacking, as mountaineering requires much more technical equipment than backpacking trips which is starting from ice axes and crampons to ropes and helmets.
What is meant by alpinism?
Alpinism is mountain climbing in the Alps or other high mountains.
What is the best time to go mountaineering?
The best time to go for a mountaineering trip are generally during Spring, early-Autumn, and Summer and these seasons provide more pleasant and stable weather conditions and allow mountaineers to avoid extremely cold temperatures, heavy snowfalls, and strong winds.
What are the best mountains to climb for a beginner?
The best mountains to climb for beginners are:
Mount Kilimanjaro, Tanzania: 19,341ft.
Mount Kenya, Kenya: 17,057ft.
Mount Elbrus, Russia: 18,510ft.
Pico de Orizaba, Mexico: 18,490ft.
Volcán Cotopaxi, Ecuador: 19,347ft.
Mount Rainier, Washington: 14,410ft.
Mont Blanc, France: 15,781ft.
Island Peak, Nepal: 20,305ft.
What is the purpose of mountaineering?
The purpose of mountaineering is to attain or attempting to attain, high points in mountainous regions, mainly for the pleasure of the climb.
Is Mountaineering a hike?
Mountaineering is far and away the most challenging adventure tour and it is a very technical method of trekking that takes you to the highest peak(s) in the world, so mountaineering can't be called a hike.
What are the benefits of mountaineering?
There are numerous benefits to mountaineering but the most obvious benefits are improving both your physical fitness and cardiovascular fitness levels as well as reducing body fat through mountaineering.
What is Mountaineering Vs hiking?
The term 'hiking' means long hours of walking on trails and it is quite easy and does not require climbing skills and equipment, but on the other hand, mountaineering refers to sports of mountain climbing and it requires high technical skills and fitness level.
What are the advantages and disadvantages of mountaineering?
The advantages of mountaineering are:
Acclimatization
Less Weight
Familiarity of Terrain
Ability to Fix Protection
Disadvantages of mountaineering are:
Higher Risk of Exposure
Greater Cost
How do I start mountaineering?
To get started with mountaineering there are primarily four types of mountaineering courses, which are Basic Mountaineering Course (BMC), Advance Mountaineering Course (AMC), Search and Rescue (SAR) and Method of Instruction (MOI).