Mountaineering tools are really very important while mountaineering, because if you don't have proper mountaineering tools then it can be quite a life-threatening activity. So, today we have decided to give you a guide about mountaineering tools, with some proper recommendations.
So, now you may ask what are the mountaineering tools which we require for mountaineering. These are the following tools you require for mountaineering:
Mountaineering Boots
A Harness
A Helmet
Protection
Proper Clothing
Headlamp
Food and Water
Emergency Beacon
A pack to carry everything
To go mountaineering, you need a variety of technical equipment that will help you remain safe and comfortable on the trip, so while the above list encompasses your essential gear , a gear that you will take with you every time you head out for a trip. There are other pieces that you may elect to either bring or leave home, depending on your specific objective, which includes belay devices, tents, and crevasse rescue gear, among others. Let have a look in the details!
Mountaineering Gear Checklist
Well, the mountaineering gear check list can be divided into two parts, which are as follows:
Essential gear– This gear is the gear that you should bring with you every time you go mountaineering and these tools help you stay safe when you're in harsh environments. You should absolutely never go on an alpine climb without them.
Optional/objective-specific gear– This gear is the gear that you don't need to carry every time you go mountaineering, but you might need it on some routes or mountain climbing for example, skis would not serve you well on every trip, but for some peaks they are absolutely going to be essential.
In this article, we are going to talk about the essential gear for mountaineering, so that you know what to look for in your mountaineering gear. We would also provide some specific recommendations about the best gear out there. 
Essential Gear
So, as we have already told you earlier, we are going to discuss about the mountaineering tools under Essential Gear. Don't worry we always keep the best for you!
Ice Axe
An ice axe that allows you to swing into ice, or stab into snow, to use as a handhold and it allows you to ascend steep, slippery surfaces, and to gain purchase on ice or snow.
An ice axe is a tool that is used to gain your balance on steep, slippery surfaces like ice. It has a head with a sharp pick on one end, that is designed to grip into icy surfaces and allow you to pull on it to move yourself up. Ice axes come in lots of different shapes like the mountaineering ice axe is taller and straighter, which means it can function sort of like a cane or a hiking pole but, it performs worse on vertical ice. The ice climbing axe is shorter and cannot be used as a walking stick, but it's better for steep sections because you can swing it with more force and therefore gain more grip on the ice.
Petzl Summit Evo is the idle axe which is deigned for both type of climbing, The link for the axe is https://www.petzl.com/US/en/Sport/Ice-axes/SUMMIT-EVO
Crampons
These are the attachments for your boot that help you walk on snow and ice. You might ask them that why do we need them for mountaineering purpose so the answer to this will be that mountaineering is almost impossible if you can't gain traction on slippery surfaces.
Crampons are spikes that attach to your feet so that you can walk easily on snow and ice and just like the axe, they will allow you to gain grips on slippery or other impassable surfaces.
There are differences between mountaineering crampons and ice climbing crampons, namely in the front parts because the mountaineering crampons have down-turned points, designed for walking flat-footed and ice climbing crampons have sharper, more sharper front points that are designed for kicking toe-first into ice.
Petzl Lynx provides the best crampons for all types of mountaineering. The link for it is https://www.mec.ca/en/product/5045-734/Lynx-Leverlock-Universel-Crampons
Mountaineering Boots
Mountaineering boots are stiff, high-ankled boots designed specifically for this purpose and we need them for warmth, support, and compatibility with your crampons. Mountaineering boots has a higher ankle, a stiffer sole, and more padding and these boots are designed for technical work in harsh, cold environments. The extra insulation of the mountaineering boot keeps your feet warm in snowy conditions and the stiff sole provides support for scrambling, ice climbing, or glacier travel, and the design of the mountaineering boot makes them perfectly compatible with crampons. However these boots can be uncomfortable and weird to walk for the first, but they are absolutely essential for mountaineering.
Harness
Harness is a combination of waist and leg belts that secures you to a rope and we need harnesses because it allows you and you partner to belay or otherwise secure each other in technical sections. It helps for belaying, glacier travel, or emergency rescue and because of this we would recommend you to always wear your harness when you are going mountaineering, as it can save your life at times.
For mountaineering, we would recommend you Stokker Harness belt. The link for the Harness belt is https://www.stokker.com/fall-arrester-harness-with-belt-har24-riplight-system-ii-sml-delta-plus/1472840967
Rope
A specially designed mountaineering rope that can catch falls or help with belays and we do need a rope because it can save your life if you or your partner fall while climbing. a Technical alpine rope is perhaps the most important piece of safety equipment to bring because rope is the difference between a pleasant day in the mountains and a stress-filled day with death.
There are two types of rope, lets discuss what are they:
Dynamic ropes– These dynamic ropes are designed to stretch when weighted and these are good for climbing on in areas where you risk falling.
Static ropes- These type of ropes do not stretch and they are traditionally used more for abseiling or glacier travel.
For mountaineering purpose we would recommend using a dynamic rope, because it can also perform the functions of a static rope as well as dynamic rope. We would recommend you Mammut Alpine Sender for mountaineering. The link for this rope is https://www.mammut.com/int/en/products/2010-04190-11230/87-alpine-sender-dry-rope
Helmet
Helmets are the most important mountaineering tool. We need helmets because it saves life and helmets are specifically designed to stop top-down impacts caused by falling rock or ice. These helmets can at times save your life. The moment you reach for mountaineering, the first thing you should do is wear a helmet.
Helmets serves two purposes, which are as follows:
You have to wear specially designed helmets, known as Alpine Helmets
Petzyl Sirocco is specially designed helmet which provide protection helmet while mountaineering. The link for it is https://www.mammut.com/int/en/products/2010-04190-11230/87-alpine-sender-dry-rope
Protection
Gear that allows you to secure yourself to the mountain because without protection, your rope is just a string tying you to your partner and protection is what allows the rope the catch you if you fall.
There are several different types of protection out there, and your protection requirement depends on the type of terrain you will be on and you won't need every type of protection for every route, however, you will need some protection.
Ice Screws
These are long, hollow tubes that you screw into ice to catch you when you fall and these ice screws are necessary if you know you'll have to climb on vertical ice.
Rock Protection
This consists of cams, nuts, and pitons that you place into cracks in the rock and you should bring these if you know you have exposed to these challenging sections of rock climbing.
Snow protection
Snow protection covers a wide variety of tools used for building anchors on less-than-vertical slopes and they are probably the most common form of mountaineering protection.
Slings/Runners/Carabiners
Slings and runners are knotted pieces of webbing that are used to attach yourself to the pieces of protection that you build and Carabiners also help for this purpose. We would suggest that always carrying an assortment of slings and runners with you when you go mountaineering.
Proper Clothing
By proper clothing we need to say base, mid, and insulation layers that keep you warm but not sweaty when moving and we need this because often it occurs in extreme environments, and you need the proper warm clothing to keep yourself safe from the environmental elements
Having the right clothing is essential when mountaineering and you have to make sure that you are warm enough to be safe, but no so warm that you start sweating when moving. The key to this is layering, which means bringing clothes that you put on when you are warm and take off when you are cold.
There are numerous websites like Mountain Hardwear, Patagonia, and Arc'teryx, they make clothing designed for mountaineering.
Headlamp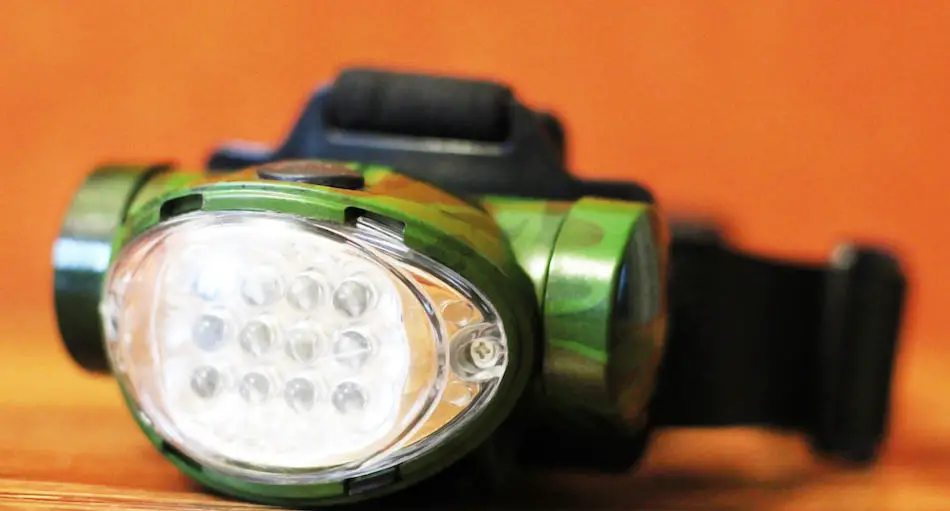 Head lamps are small flashlight that attaches to your head via a strap, allowing you to keep both hands free and they are needed because they allow you to see before the sun comes up or goes down without having to tie up a hand. Mountaineering often starts before sunrise, and there is a chance that you will be out past sundown. In these situations, having a high-powered headlamp along with you is very much important as they allow you to see the terrain that you are travelling on and, therefore you be able to travel on it safely.
Headlamps are also incredibly lightweight and packable, so there is no reason to not bring one and even if you are not starting in the dark, it is still good to have one as a backup because if something goes wrong, you may well find yourself stuck in darkness.
We will recommend you to use Black Diamond Storm as they are specially designed to use for mountaineering. The link for it is https://www.blackdiamondequipment.com/en_CA/shop/headlamps/
Food and Water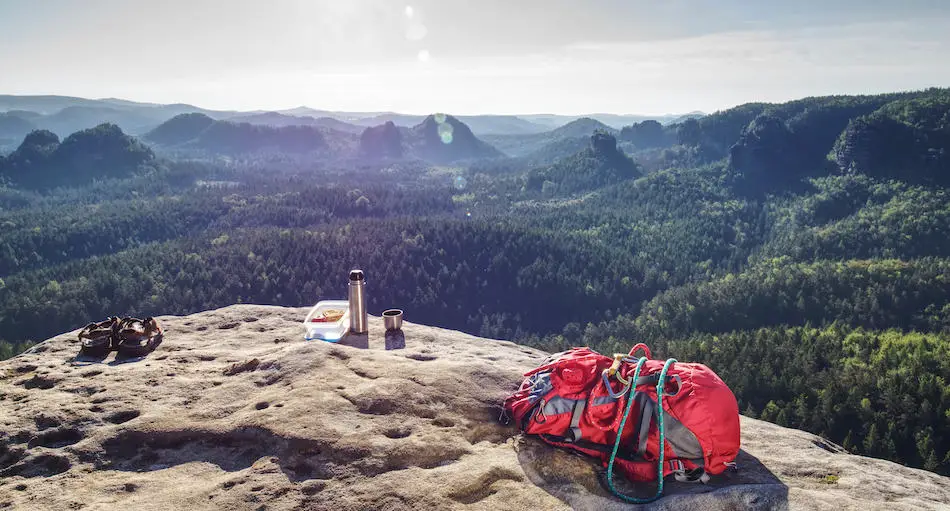 Food and water are the most important thing which one needs while mountaineering and to keep your body strong on the trail and having enough calories and hydration on a mountaineering route can be the difference between an enjoyable trip and a miserable slog and in fact, it is always best to overpack these two things, just in case something goes wrong and you need to stay out longer than expected.
Everyone's food preferences vary, but looking at the other climbers we do have some general guidelines:
You want high-density carbs for energy then Clif bars are definitely the best thing for this purpose
Clif Blocks are designed for ultra-runners, are a great source of calories an energy for mountaineering.
Try to favour foods that you can eat while on the go like granola bars, nuts, protein bars
For water, you need to balance weight with hydration and we would say the maximum water you should bring on any alpine route is 3 litres
Emergency Beacon

An Emergency Beacon device that allows you to send messages and you GPS coordinates via email or cellphone, even when you are out of service and we need these devices can literally save your life if someone gets injured or if something goes wrong in the mountaineering journey.
Emergency Beacon uses satellites to send messages from anywhere on the globe, either to a pre-established contact or to emergency services and since many mountaineering routes will take you out of cell service, so these can often be the only way to contact with the outside world if something goes wrong.
We have seen many climber prefer Garmin InReach, although it does cost about twice as much and the link for that is https://buy.garmin.com/en-CA/CA/p/561269
Backpack
The last but not the least is a back pack!  A backpack to carry all of your gear in and we need it because you have a lot of stuff, and you need somewhere to put it!
Things which are absolutely necessary for back packs are:
It should be at least 25 litres, although we would look more in the 35-40 range
Hip belts are a must
The backpack should be made out of durable and preferably water-resistant materials
It should be designed to be compact so that it doesn't snag on anything
Your arms need a full range of motion after wearing the back pack
Essentially, the pack should be comfortable, well-fitting, and now super bulky and it also needs to have space to store all of your gear and somextra features, like straps for your helmet or axe, are a surprising bonus.
The few back packs which we recommend are:
Frequently Asked Questions (FAQs):
What are the tools used in mountaineering?
The tools required while mountaineering are :
Ice Axe
Crampons
Mountaineering Boots
A Harness
Rope
A Helmet
Protection
Proper Clothing
Headlamp
Food and Water
Emergency Beacon
A pack to carry everything
What are the 6 most important pieces of equipment needed for climbing?
The 6 most important pieces of equipment needed for climbing are :
Helmet.
Climbing Harness.
Slings.
Quickdraws.
Large Locking Carabiners.
.
What equipment do you need to climb a mountain?
The equipment you need to climb a mountain are:
Helmet.
Climbing Harness.
Slings.
Quickdraws.
Large Locking Carabiners.
Personal Anchor System (PAS)
Belay-Rappel Device.
Climbing Rope.
What kinds of tools are needed for climbing mountain answer?
For climbing mountain, we need a thick rope, sling, stick, axe and along with these food packets, water bottle, hook, plastic sheet, headlamps, belay devices, proper clothes, emergency beacon are also needed
What is a 6 letter word for climbing equipment?
The six letter word for climbing equipment is LADDER
What do climbers use to ascend cliffs?
The climbers use climbing shoes and a chalk bag to ascend the cliffs and equipment such as ropes, bolts, nuts, hexes and camming devices are normally employed to safeguard or for artificial aid.
What kinds of tools are needed?
The tools which are needed for mountaineering are:
Ice Axe
Crampons
Mountaineering Boots
A Harness
Rope
A Helmet
Protection
Proper Clothing
Headlamp
Food and Water
Emergency Beacon
A pack to carry everything
What is Rapling for Class 5?
Rapling means using the rope, in a special way to come down of the mountain.
What are the responsibilities of mountaineering group leader?
During rock climbing or mountaineering, leaders are adept at traversing complex terrain and maintaining rope control. The climb leader can take over the rope and teach rope management and knots to basic students who may struggle with these concepts.