We have seen almost 90% of the people are mixing up Mountain climbing and mountaineering, but these two are totally different activities. Today we are going to discuss the differences between mountain climbing and mountaineering.
Now you will surely be asking that what is the difference between mountain climbing and mountaineering? The answer to that would be, Mountaineering is just a technical subset of mountain climbing that usually requires specific training and proper equipment.
Though these two sports can be very similar in a lot of ways, but also there are a few key differences between mountain climbing and mountaineering. Mountain climbing is a broad category of activities that involves traveling to peaks with the intent of reaching the summit, which can be in various ways like hiking, skiing, rock climbing, or ice climbing. Whereas Mountaineering is a specific subset of mountain climbing that mainly focuses on reaching remote summits via technically difficult routes and with the help of specific equipment, mainly in the winter season.
Mountain Climbing vs Mountaineering
Now before going to the differences and the similarities, we would like to give you an overview about mountaineering and mountain climbing:
Mountain climbing – Mountain climbing is the set of activities that involves climbing up the mountains and you simply look at a mountain and decide that you want to get to one of the summits and you can climb to the summit through mountaineering, hiking, ice climbing and many other ways
Mountaineering – Mountaineering is a technical activity used to climb the summits in the hardest possible way and this may include using advanced techniques or specific equipment to make it easier and safer.
If we jot down the things there is an easy distinction to make and that is ,anyone can mountain climb but everyone cannot be a mountaineer.
Another point is that Mountain climbing can be as easy as hiking to a summit as there are thousands of mountains with low elevation and well-defined trails by which anyone can reach the summit easily.
Whereas, Mountaineering involves years of practice and experience before you can engage in it and there is a list of skills that you need to practise before going for mountaineering:
Ice climbing
Ropework and belaying
Glacier travel
Placing protection
Yes, these thing can be difficult to learn but these are absolutely necesaary if you opt for mountaineering
Mountain Climbing
Mountain climbing is a non-technical activity and is great for its accessibility and ease of performance. Mountain climbing also a massively varied activity that can be broken down into many other forms mentioned below:
Hiking: Hiking is the most basic form of mountain climbing and can range from very easy to very challenging. Though, hiking are non-technical , one such great example of a non-technical mountain that will still push you to your limit is Mount Whitney.
Rock climbing: Rock climbing is quite difficult than hiking. Here, you have to use ropes and harnesses to scale sheer rock cliffs and it is a more technical discipline with lots of fun!
Scrambling: Scrambling is a middle between hiking and rock climbing as it is way too technical to be considered a hike, but it is not as technical as to require all of the standard mountaineering gear.
Trekking: Trekking is another form of mountain climbing where you summit multiple peaks over the course of several days or months, carrying all of your equipment .
Ice climbing: Sometimes, it may be possible to summit a mountain purely through ice climbing with the help of sharp axes and crampons to climb up the vertical sheets of ice.
Mountaineering: It is mentioned below.
Mountaineering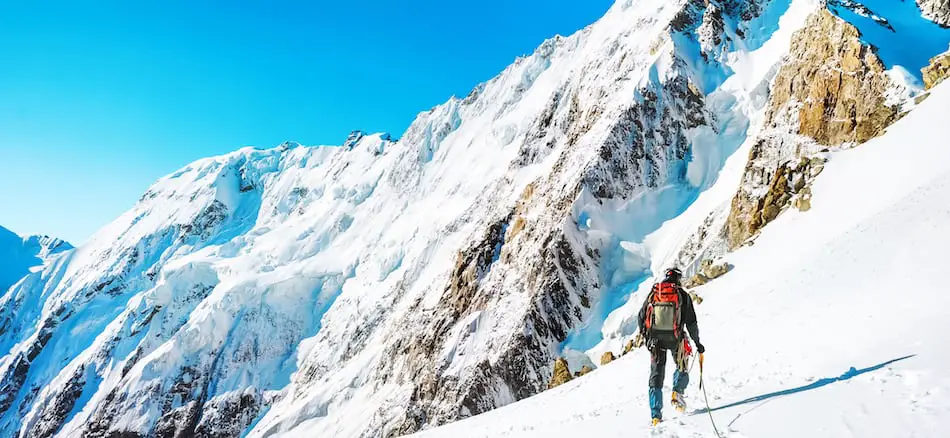 Mountaineering is considered the most technical form of mountain climbing as it requires you to be good at all of the other forms. To become a mountaineer, you need to be a strong hiker, competent rock and ice climber, and a good scrambler as well. In fact, you have to mix these disciplines together on a specific route, because to reach a summit while mountaineering you might have to hike for long sections, rock climb, ice climb and scramble through exposed terrain. In addition to that there are some other skills that you also might be required to integrate and those are as follows:
Glacier travel: Crossing glaciers, which are massive frozen rivers, is a dangerous task to accomplish as hidden underneath a thin layer of snow on the top you will often find crevasses which are almost hundreds of feet deep and once you fall into one of these it could be very fatal.
Orienteering: Navigating while on mountaineering can be a tough task with very high stakes and going off the route could land you in highly technical terrain that could put you in absolute danger.
Mixed climbing: It is a hybrid activity where you climb on rock using ice climbing tools and it can be quite strenuous and dangerous.
So from this we get another distinguishing feature of mountaineering from mountain climbing that is highly technical and dangerous activity that requires years of practice to be able to perform. On the other hand anyone could leave the house tomorrow morning and go climb a mountain, but becoming a mountaineer takes years of practice, experience and hard work.
Mountaineering is also an activity with s high consequences because reports says every year, hundreds of people die while mountaineering, this is how dangerous this sport is. However, the benefits of it are often enough to outweigh the risks as Mountaineering will take you to some of the most spectacular, hard-to-reach corners of the earth which only mountaineers are lucky enough to see, you will get to experience sights that only a handful of people who have ever experienced this before and you will also get a massive sense of personal achievement from having scaled tall and technically difficult peaks about which most people dream of
If you enjoy mountain climbing and like the challenges and sense of achievement that comes from reaching the summit, then turning into mountaineer can be a great way to continue to push yourself towards your dreams!
Similarities
So, now that we have given you a brief about the sports, therefore, let's have a look at some of the similarities and differences between them.
Firstly we are going to start the discussion with the similarities and as mountaineering is a subset of mountain climbing so there are a lot of ways in which the two are alike. Three of the main ones are mentioned below:
Location
Goal
Type of Activity
Location
This one is the most obvious point and that is both sports take place in the mountains and trust me mountain climbing and mountaineering are the most pleasurable activity as you get to spent most of the time with nature.
However, mountains can also be dangerous and even the non-technical sport of mountain climbing can have its own risk. We have seen that people get injured even die each year while on hikes and non-technical mountain climbings.
Basic Goal
The main goal of mountaineering and mountain climbing are the same and that is to reach the summit of the tall mountains. In fact, at times the activity can be even morespecific than that because for both activities, you don't always need to reach the summit to achieve your basic goal. Sometimes you may choose to focus on one specific route, or a sub-peak of the mountain.
Never become overly focused on summits because while mountaineering or mountain climbing, if you become too focused on the summit, you might take unnecessary risks or wrong routes to reach it and this can lead you to life threatening risks
Type of Activity
This is probably the main similarity between mountaineering and mountain climbing, which is that they are basically the same thing, with mountaineering climbing becomes a more specified, demanding version of mountain climbing and because of this reason there is a large overlap between people who practice either of these sport. Mountain climbing is often a starting point for people who want to begin mountaineering.
Differences
So now that we have completed discussing the similarities, it's the perfect time to talk about the differences between them.
Risk Factor
As we have already discussed earlier in this article that mountaineering is significantly more dangerous than mountain climbing but that does not mean that you will take mountain climbing too lightly/
We are just saying how dangerous mountaineering truly is. Yes, you should be aware of the risks when mountain climbing, but you need to be much more experienced and expect more risk when you go mountaineering because each time you step out of the house on a mountaineering expedition, you should know that you will find yourself in situations where can possibly see death in front of your eyes.
Mountaineering can take you farther and may end up being more rewarding, but also the risk factors of mountaineering can be life threatening.
Skills Needed
Mountaineering is a technical activity, therefore it requires more skills. While mountain climbing might only require the ability to walk which all of us have and a certain level of fitness, but mountaineering will require a great deal of skills including the following:
Rock climbing
Placing protection
Ice climbing
Mixed climbing
Glacier travel
Navigation
Risk assessment
Emergency rescue
Scrambling
Equipment Needed
Mountaineering requires a lot more equipment than mountain climbing does, while most people could go climb a mountain with stuff that they already have in their house, mountaineering requires far more equipment.
Some of the gear you need to mountaineer includes these following things, which are:
Frequently Asked Questions ( FAQs):
Is Mountaineering a hike?
Mountaineering is far more different from hiking and the most challenging adventure tour. Mountaineering is a very technical method of trekking that takes you to the highest peak(s) in the world, where is a basic walk up the mountains and is quite non- technical.
What's the difference between mountaineering and backpacking?
The most important difference between mountaineering and backpacking is that Mountaineering requires much more technical equipment than backpacking trips, which ranges from ice axes and crampons to ropes and helmets.
What is the best time to go mountaineering?
The best time for a mountaineering trip are generally during Spring, early-Autumn, and Summer because these seasons provide more pleasant and stable weather conditions and allow mountaineers to avoid extreme cold conditions, heavy snowfalls, and strong winds.
Why is hiking better than trekking?
Hiking involves a long energetic walk in a natural environment on hiking trails or footpaths for a day or overnights whereas trekking involves a long vigorous hike in the wild natural environment for multiple days and hiking is highly beneficial for cardiovascular health.
Why is a backpack an ideal bag for mountaineering?
A backpack is an ideal bag for mountaineering because they are designed in a way that will sit closer to your center of gravity and by sitting close to your mountaineer backpack will save much of your energy because the bag's weight will be well distributed on the body and they are the best when it comes to steep technical terrains.
Is trekking more difficult than hiking?
Trekking is more difficult than hiking because it requires more strength and is riskier compared to hiking.
Why is hiking good for you?
Hiking is good for you because it helps to reduce your risk of heart disease, stroke, high blood pressure, high cholesterol, and even some cancers and it is also a weight-bearing exercise, which helps to build muscle mass and helps prevent osteoporosis.