We have often seen beginners struggling with a proper layering system for ice climbing, therefore we have decided that it would be really helpful if we helped you out a bit. So yes you guessed it right, today in this article we have written the following guide to help you learn everything you need to know about layering for ice climbing.
So exactly do you mean by layering? Well, wearing multiple light clothing pieces instead of one heavy piece is referred to as layering. With layering, you can adjust the temperature based on whether you're moving or standing still.
Layering is an essential skill to have for any cold-weather activity such as ice climbing. The activity of ice climbing varies from intense to relatively low-intensity, so you must stay warm while you are climbing as well as belaying or waiting for your climb. But in certain cases like when you are climbing, you don't want to be so warm because that can make you really sweaty , so in these cases layering helps you to find the right insulation level for each activity.
The Importance of Layering
Let's cover why layering is so beneficial before we discuss the exact layering system that you should use for ice climbing.
When you are outside, you want to stay warm enough that you have blood in your extremities and you're not uncomfortable, but not too warm that you start sweating. If you go outside of this range, you may experience complications:
If you get too cold you lose mobility in your digits and that can make ice climbing hard. In addition, frostbite is a risk.
When you get too hot, you sweat inside your clothes. In the process of sweating, you may cool yourself down too much and develop some issues we discussed earlier.
To avoid either of these aforementioned outcomes, you need to keep your internal body temperature around 37 degrees Celsius so that you would not sweat or shut down your extremities.
This is going to be really difficult in ice climbing because you are going to be swinging between high-intensity exercises such as ice climbing and low-intensity activities such as belaying. Therefore, if you dress for the ice climbing, you will end up being too cold when you have to belay and if you dress for the belay, you will sweat buckets while ice climbing, and as soon as you stop moving this sweat will cool you down even further and that can be really bad for your body.
The only solution to this problem of being too hot and too cold is layering. All you have to do is bring several different pieces of clothing that allow you to stay warm during a variety of activities like when you are standing around belaying, you have to cover yourself with more layers so that you can stay warm and once it is time to climb, you layer down so that your body can release heat so that you donor need to sweat that much..
Layering Systems for Ice Climbing
Having established what layering is, we can consider layering systems for ice climbing, and as with most sports, the majority of your insulation variability (that is, the number of layers you remove and then replace throughout the day) is going to come from your upper body. With crampons on your feet, it is much easier to remove a jacket or sweater than a pair of pants.
Getting the right layering system for ice climbing can be quite tricky, for a decent number of reasons. Firstly, it is a completely strenuous activity that is performed in freezing cold conditions, which means that you need both a very light layer to climb in ice and a very warm layer in case of belaying.
On top of that, the temperature can and will often change throughout the day. As you're warming up in the morning, your insulation requirements will likely be different than when you're climbing a WI-5 at noon after the sun has risen, the air has warmed up, and the sun has set and for this reason sometimes you need to bring multiple layers for the same purpose because this gives you options to swap out pieces of clothing throughout the day as the temperature as well as the conditions change.
There's one other point to discuss before we talk about clothing recommendations, and that is what clothes you wear will influence how effective your layering system is. The use of active insulation pieces makes layering more efficient and comfortable. Heat will be absorbed and emitted more effectively with them.
Here is a video that will tell you a lot about layering for ice climbing:
The trade-off, of course, is that these pieces tend to cost more money as the cheap gear will work, just not as well compared to the expensive ones. In this article, we would try to provide you with at least one recommendation per category that is more affordable than the rest, and this is going to be for all beginners or those who are on a tighter budget. 
We really don't want to freak anyone out and imply that they won't be able to ice climb if they don't have the insulation layers described below, or that they won't be able to climb with their friends when they don't have one.
We're merely creating a reference to build your own layering system around, so if you don't have the gear, that's totally fine too! Your insulation layer could be an extra warm fleece or hoodie you throw into your backpack and your belay jacket could have been purchased at Goodwill because they sell really warm jackets and the majority of the people will probably have enough clothes in their closet to make it work; just use the guide below as a reference point and build with what you have.  
Upper Body
We have already mentioned earlier that your upper body is where you will layer most heavily. If you scroll down, you will find that we recommend that you bring five different layers with you when climbing. It is quite clear that you won't wear them all at the same time; usually, you'll only carry three or four, and the rest will stay in your bag.
Another thing to keep in mind is that some pieces of clothing are capable of combining multiple layers and in certain conditions and at certain times of the day, the Patagonia Nano-Storm, for example, can function both as an active layer and as a belay layer. Please don't be alarmed if you do not have a garment that fits into all of these categories; this list is only a guide to assist you as you build your own layering system.
Base Layer
First and foremost we would talk about the base layer and this is the one thing that you are absolutely not going to take off all day. Base layers should be uber-comfortable, lightweight, and quick-dry because you are almost certainly going to sweat in it.
We would personally recommend you to wear a t-shirt for this layer, although we also know others will want to go with a long-sleeve shirt or even a very lightweight crewneck sweater. Choosing what to wear usually depends on your personal preference and the weather.
For extreme cold temperatures, some people may choose to wear an insulating base layer, but we do not recommend it because it is too hot. This layer is basically just intended to be comfortable and not get in the way of other layers. Additionally, that layer will be surrounded by 4 additional insulating layers.
Recommendations for base layers:
As a matter of fact, we consider the Patagonia Capilene Cool to be one of the most comfortable t-shirts we have ever used, which is why we highly recommend it.
As for workout shirts, hiking shirts, or breathable materials, they will all work
However, to get the best insulation, we recommend the UnderArmour ColdGear Base 3.0.
Secondary Base Layer or High Activity Layer
Now it is the high time to discuss about the secondary base layer, or your high activity layer and this high activity layer is usually a lightweight fleece that you wear over your base.
It acts as a second layer of insulation in the morning, allowing you to stay nice and warm inside. During the day, you can wear this as your climbing layer to avoid becoming too warm, but later in the day as the day begins to heat up.
For this high activity layer, you will need something that is warm and lightweight and it should be comfortable enough to wear for hours on end and thin enough that you can wear 2-3 jackets overtop of it, without it getting in the way and if you have garments with active insulation, then they would certainly be perfect for this purpose.
Recommendations for Secondary Base Layer or High Activity Layer :
Patagonia's R1 fleece is a high-activity, warm fleece that's durable and comfortable. There is no comparable product on the market.
Despite being more affordable, Mountain Hardwear's Type 2 Fun is less breathable.
People who are looking for a way to save a little money can opt for the MEC Rockwall
Active Layer
The active layer is the bread and butter of and good layering system and this is what you are going to wear when you are climbing, and active layer is also what you are going to depend upon to keep you warm while you are belaying because having a good active layer can make or break your thermo-regulation for the day.
An active layer is probably the most important and vital part of your layering system, because it needs to reduce heat while you're climbing and then effectively trap it while you're not. Due to the importance of active layers to alpinists and ice climbers, outdoor gear companies have put millions of dollars into designing them.
For your active layer, you should have a heavy fleece or lightweight down jacket that is absolutely well-fitted and not too over sized, as this will stop if from getting in the way while climbing and you will also want the outside to be water-and-abrasion resistant, so that it does not get soaked in the ice or tear when you catch it against rock and if you have a garment with a hood it can be a good idea to wear that.
Recommendations:
Active layers are currently dominated by Arc'teryx Proton
Second place goes to the Patagonia Nano-Air
The RAB Xenon is a cheaper option that resists wind, but it is less breathable
You may also be able to take the liner out of a ski jacket for those who don't want to spend a lot on a jacket. Your active layer will function perfectly with that.
Belay Layer
As soon as you are done climbing, you slip on your belay layer in order to keep warm. This is a jacket that needs to be comfortable, insulated, and ideally waterproof. Ideally, this layer should be easy to take on and off; it should be loose-fitting so that you can simply slide it over your other layers. When the weather gets cold or snowy, choose a jacket that has a good so that you can bring it over your helmet.
To be very honest with you, there is not too much to say about a belay layer other than that, all it needs to be is a well-insulated jacket that you can wear when you're not moving and not be cold.
Recommendations for belay layer:
There could be no better belay jacket than the Black Diamond Stance. It's insanely warm and is designed to be worn over other layers.
In very cold conditions, the Patagonia Nano-Storm is a viable active layer option that is durable, lightweight, and can also double as a coat.
With the Marmot Guides Down, you can stay warm in any weather.
If you don't want to buy something new, you can use any ski or winter jacket you have.
Insulation Layer
Lastly, we will be talking about the insulation layer.
This layer is not so necessary, but it is the only one that we would recommend. You can use your insulation layer as a backup jacket if the weather turns colder than expected. It can never hurt to carry an extra layer when you're out in the open for ten straight hours in the middle of winter.
When it comes to insulation layers, warmth must be maximized while weight must be minimized. You should have something easily accessible in your bag or on your harness when you don't need to think about it the rest of the day. Besides, when you are caught in an exposed belay where the wind is howling and your hands are starting to numb, you can whip it out and throw it on without thinking.
Having an insulation layer isn't necessary, but it's recommended for multi-pitches or extra cold days.
Recommendations for insulation layers:
It is one of the best warm-to-weight ratios available when it comes to the North Face Summit L3 Down Hoodie
The Arc'teryx Cerium or the Patagonia Macro-Puff are also excellent choices
The RAB Micro-Light will serve you well and it is more affordable
Lower Body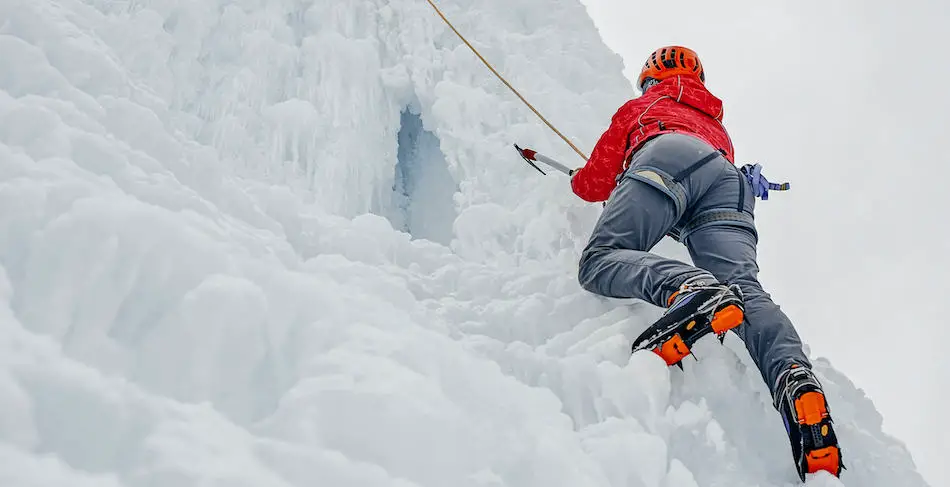 We've covered your five upper body layers, so let's look at the other pieces that you will have to wear.
Layering in the lower body is tricky, because this is probably the area where you have the least adjustability as taking your pants on and off is an absolute trouble with your mountaineering boots on. You really don't have much chance to adjust throughout the day which means you want to get it right at the first go and it also means you need to have a good upper body layering system, because that is where the majority of your temperature regulation is going to take place.
There are two layers that you have to wear for lower body layering which is base layer and outer layer and between your base and your outer layer, you can sometimes afford to make a trade off: the heavier one is, the lighter the other can be and people with a good pair of alpine pants, however, may want to go in the other direction.
Base Layer
Your base layer is the one that you put on first and wear all day. The three things that you want to have are comfort, breathability, and fitness These pants should fit snugly so that you can slide other layers over top of them, but not so tight that they interfere with your movement or bother you throughout the day. Since you're going to be sweating, you should also choose something quick-drying.
If you have a base layer for skiing, we would recommend you to wear that and if not, a pair of regular sweatpants will work decently well.
There are so many options like Helly Hansen, Merino Wool, and UnderArmour all make good base layers that will serve you well for ice climbing.
Outer Layer
Now we will be talking about outdoor layer as these outdoor layers has to be a insulated, waterproof, and durable pair of pants that can fit over your insulated layer.
Most importantly, you would like to wear snow pants which will keep you dry while you're climbing, belaying, and sitting around on snowy terrain and they will also serve to keep you warm throughout the day.
When it comes to ice climbing, there are two main categories of pants to wear, which are alpine pants and regular snow pants. Some people have dedicated alpine pants that they bring with them when they go as they are specialized, lighter, and more form-fitting, which means that they are less troublesome but they often tend to have less insulation, which means that you might need to beef up your base layer a bit to compensate. While the other group of ice climber just wears regular snow pants, like the type you would bring skiing because they are quite warm, but will be bulkier and less mobile .
Recommendations :
As the perfect ice climbing trousers, Outdoor Research Cirque's are legendaryA less specialized option is Helly Hansen's Force Pants
Feet
The most important thing you can do while ice climbing is to keep your feet warm as cold toes can cause poor footwork, which could lead to a fall, so make sure you have the proper layers on your feet.
Socks
Some people prefer technical ski and alpine socks; others want normal hiking socks purchased from your nearby retail shop
But there are certain points which you have to keep in mind while choosing a sock for ice climbing, which are as follows:
When cotton gets sweaty (and trust me, your feet will sweat), it loses its insulation ability, so avoid cotton socks.
Socks with too much bulk can actually cause your feet to become colder because they block circulation to the feet, so avoid them as well
Boots
When ice climbing, you either want to wear mountaineering boots or ski boots because mountaineering boots will give you better footwork, and ski boots are warmer and do less damage to your toes.
There's also the matter of double-layered boots for mountaineering as double-layer boots are warmer, and people who hate cold feet might want to consider picking up a pair but they are also going to be heavy, and for shoulder-season climbing, it may end up being too much insulating.
Hands
We have finally reached your hands and they are very much important because they will allow you to grip your ice axes and catch your climbing partner if they fall. It is recommended that you have two pairs of gloves: One for climbing, one for belaying.
Climbing Gloves
You want these to be thin and well-fitted to your hands because loose-fitting gloves will slide around when weights and you also want enough insulation to keep you warm, while still keeping the gloves thin enough so that you can feel your axes and continue to make good placements.
Belay Mittens
Finally, now we are going to talk about belay mittens and you will want them to be as warm as possible, while still giving you enough sensitivity to feel the rope and belay well and they should be absolutely large enough to fit over other gloves.
Frequently Asked Questions (FAQs):
What is layering?
Wearing multiple light clothing pieces instead of one heavy piece is referred to as layering. With layering, you can adjust the temperature based on whether you're moving or standing still.
How to dress for Ice climbing?
While ice climbing you will need the following layers:
Upper body:
Base Layer
High Activity Layer
Active layer
Lower Layer:
Base Layer
Outer Body Layer
Feet:
Socks
Mountaineering Boots
Hands:
Climbing Gloves
Belay Mittens
What type of pants should you wear for Ice Climbing?
Unless you tend to get very cold, you should be able to forgo a mid-layer on your bottom half and the combination of midweight long underwear and proper shell pants will keep you comfortable in most of the cases and your final layer or outer body layer while ice climbing should be lightweight, waterproof, and easy to move around in.
What are mountaineering pants?
Mountaineering pants are softshell that act like a hard shell, this type of pants offers protection for any weather –rain, wind, ice, and snow and as they are waterproof, these pants are designed in such a way that it allows for breathability while keeping you dry.
How do ice climbers stay warm?
Ice climbers stay warm in the following ways:
Stay hydrated
Go pee
Use several pairs of gloves
Use a chemical warmer
Moving