Canyoneering shoes must provide support, flexibility, a decent grip, and appropriate drainage in order to guide you through all of your canyon excursions.
Because you'll be grappling with boulders, a normal hiking shoe or boot won't suffice due to the shoe's construction. A regular sneaker won't work because it won't be able to withstand the harsh edges you'll meet. A water shoe is convenient because it is flexible and drains quickly, but who wants to climb a canyon in one of those flimsy contraptions?
So, what type of footwear do you need for the canyoneering adventure of a lifetime? Here are a few suggestions that should check all of the boxes mentioned previously, as well as go above and beyond to ensure your comfort throughout the journey.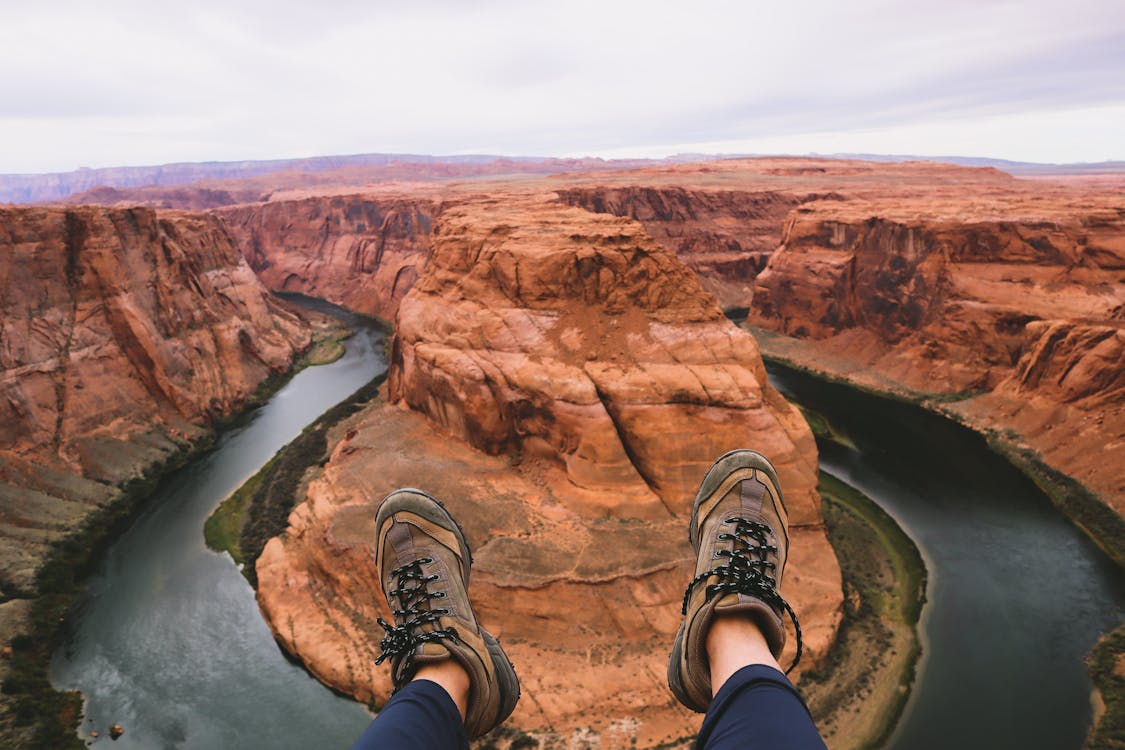 What to Look for in Canyoneering Shoes
Canyoneering shoes are different from other forms of footwear.
Canyoneering is such a diverse activity that you'll need a shoe that can handle it all. Some shoes may have all of the attributes you seek but one, while others may be more divided.
In any case, these are the most important considerations to make when looking for the best canyoneering shoe.
Grip
A good grip is the most critical feature to look for in canyoneering shoes. Your shoes should offer excellent traction on both wet and dry rocks, as well as any uneven surfaces you may come upon.
Canyoneering is a highly unexpected sport in which you never know what you'll encounter. Being ready for any occasion can go a long way toward stopping you from slipping and sliding all the time.
Support
Canyoneering requires a pair of shoes that provide excellent support — after all, this is an exciting activity! Because the terrain might be uneven and you may find yourself bouncing from boulder to boulder, rolled ankles and foot fatigue are typical if you don't wear shoes that provide adequate support.
Make sure you pick a pair of shoes with enough ankle and arch support to keep your foot comfortable and supported throughout the day.
Flexibility
It's one thing to provide support, but it's quite another to provide flexibility. The main reason you shouldn't go canyoneering in a hiking boot is that it isn't flexible enough to get you where you need to go.
A decent canyoneering shoe will not sacrifice support for flexibility but will combine the two to allow you to reach those uncharted areas and footholds.
Protection
Canyoneering may be full of unexpected twists and turns, especially when it comes to the jagged rock.
To avoid getting cut up while climbing, rappelling, or crossing streams, choose a pair of shoes that provide protection all the way down the foot (not just the toes!).
Drainage
When it comes to crossing streams, excellent drainage is another feature to look for in a canyoneering shoe. You might find yourself in water several times throughout the day, whether you're crossing your body's water, swimming through it, or walking through a waterfall.
You don't want a water-resistant shoe because you'll be squishing around in it for the rest of the journey. Shoes that drain properly rather than retaining water will provide you with far more comfort than those that do the contrary.
Best Canyoneering Shoes
To make your hunt a little easier, here are five of the best options available for canyoneering shoes.
1. Five Ten Guide Tennie Approach
Starting with Five Ten is a fantastic choice. If you're looking for a lightweight choice to take with you on adventures, their Guide Tennie Approach shoes should suffice.
The shoes themselves are made entirely of leather, ensuring long-term durability in all weather conditions. The Stealth C4 Dotty tread on the synthetic bottom and outsole also provides excellent traction. These shoes are made for high-friction, rough activities, and you can bet they'll hold up against everything.
The Five Ten Canyoneering Shoe fits the majority of the criteria for a superb canyoneering shoe. Good support, great grip, appropriate protection, and enough flexibility.
Available at: https://www.amazon.com/dp/B01N5A982O?tag=trek09b-20&linkCode=ogi&th=1&psc=1 
2. Arc'teryx Acrux FL Approach Shoe
Arc'teryx makes a good approach shoe that's ideal for canyoneering and is quickly gaining favor in the outdoor world.
The upper of this shoe is made of PU-coated nylon, which adds toughness and keeps water out of the shoe when it becomes wet. These shoes are additionally treated with high abrasion protection coatings, making them among the most durable on the market.
Finally, a molded heel and toe cap protect your feet from the elements while you're out and about.
The Acrux FL has an excellent grip and will keep you upright on wet or dry ground.
Available at: https://www.amazon.com/ARCTERYX-Acrux-FL-Approach-Shoe/dp/B00O4CFT60?tag=trek09b-20 
3. Adidas Terrex Scope GTX
The Terrex Scope is designed for intense action on uneven terrain and boasts an intriguing, lightweight design. The shoes are constructed of robust and durable textiles as well as synthetic materials, and they're completely waterproof thanks to GORE-TEX.
The Terrex Scope is flexible, sturdy, and offers superb protection with a wraparound toe cap and thick rubber sole, in addition to draining rapidly and wicking water in general.
The laceless system is a standout feature of this shoe. Instead of having to tie thin laces, you can just slip these on and go. You won't have to worry about your shoelace becoming tangled in ropes or trapped on a ridge.
Available at: https://www.amazon.com/adidas-Sport-Performance-Terrex-Sneakers/dp/B071KH71V7?tag=trek09b-20 
4. La Sportiva TX4
This pair of shoes from La Sportiva is incredibly well-designed and deserving of a spot on this list of the best canyoneering shoes.
First and foremost, assuming you order the correct size, these shoes should fit like a glove, providing you with the maximum comfort, support, and confidence that a decent pair of canyoneering shoes should provide.
Then there's the fact that they're incredibly long-lasting. No sharp rock or misstep will shred these shoes apart because they're made of leather, rubber, and synthetic components. They'll withstand just about everything and keep you comfy while doing so.
Available at: https://www.rei.com/product/146538/la-sportiva-tx4-approach-shoes-mens?cm_mmc=aff_AL-_-208325-_-262073-_-NA&avad=262073_c23b11db9 
5. Scarpa Gecko Approach Shoe
The Scarpa Gecko is a popular choice among canyoneering enthusiasts all around the world.
Starting with the essentials, this shoe features a 100% suede upper and a synthetic rubber sole with excellent traction. The lugs aren't the deepest on the market, but they'll keep you steady while you scramble over uneven terrain. The shoe's material is quite robust, so you won't have to worry about it catching and tearing on whatever you come across.
A rubber toe is included for added abrasion resistance. Furthermore, the lace-to-toe construction offers a secure fit and ensures that all strings are tucked away before you get started.
These shoes are light, comfy, and ready for anything. These are the shoes for you if you're searching for something that's great for climbing and can take a battering.
Available at: https://www.amazon.com/SCARPA-Gecko-Approach-Shoe-M-Shark/dp/B0126JCQDQ?tag=trek09b-20