We heard that you are in a hunt for Rappelling Devices, well then you have stopped in the perfect place, because today in this article we are going to discuss about the best rappelling devices found in the market.
Choosing a proper rappelling device can be a real struggle. Therefore, to help you out we have come up with a list of rappelling device and the list consists of the following:
The Petzl PIRANA
Sterling ATS
Petzl Stop Designer
The Edelrid Giga Jul
The SQWUREL 2
The Black Diamond ATC
These devices are good for different uses such as some of them are built for all-around purpose, while the rest have very specific functions and may not work as an all-rounder. So in this article we are going to tell all the advantages and disadvantages of all the above mentioned rappelling devices. So that helps you to choose the correct one.
The Petzl PIRANA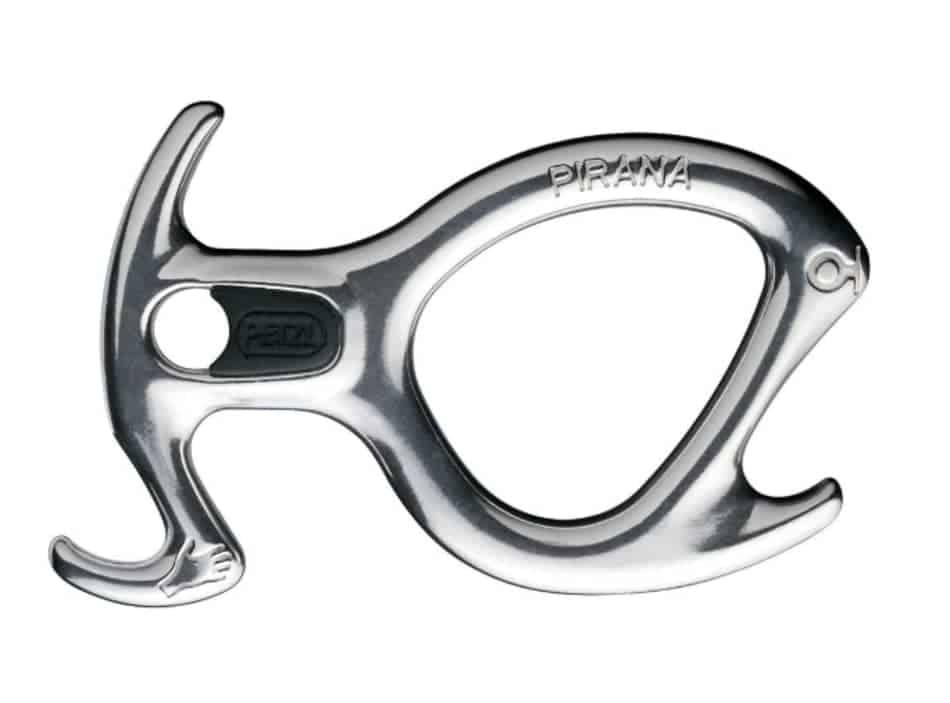 Cost: $39.95
Buy from: https://www.petzl.com/US/en/Sport/Belay-devices-and-descenders/PIRANA
Advantages:
This comes at an affordable price and from a trusted manufacturer
The PIRANA's smooth design makes it possible for you to attach it to your rope without having to do so.
Adjustable friction levels provide adequate pre-rappel adjustability
Disadvantages:
Has less features than others
Some friction levels can be be introduced to mid-rappel.
Verdict:
According to us, the Petzl PIRANA isthe best overall rappel device as it has got a little bit of everything, and avoids going overboard in any one area, and caps it off with a simple-yet-durable design and it is also one of the cheapest devices and when combined with its durability, this solidifies its position as the number 1 rappel device on the market right now.
PIRANA has perfect amount of features to make it capable of performing technical rappels, without having a confusing array of stunts that can make it difficult to handle. The PIRANA has six different levels of friction which an provide friction depending on how technical the rappel is and what type of terrain you are dealing with and while you are completing a overhanging, rappel, steep PIRANA can notch up the resistance to give yourself more control and if you're looking to get down in a hurry, you can keep the friction a little lower and get down quickly and easily.
PetzlPIRANA allows you to make adjustments in mid-air which is highly beneficial for activities such as canyoning, because there you are going to face different types of terrain in one rappel and also gives you the ability to keep the rappel looser while you lower yourself off an edge and then tighten it up once you're free hanging and even you can also tie off the rappel to rest halfway through.
The greatest advantage of the PIRANA is that it can handle two-strand rappels, which makes it versatile in a whole host of areas and that makes it useful for descending sport climbing crags or multi-pitch routes where you don't want to have to bother with setting up a tagline.
The Sterling ATS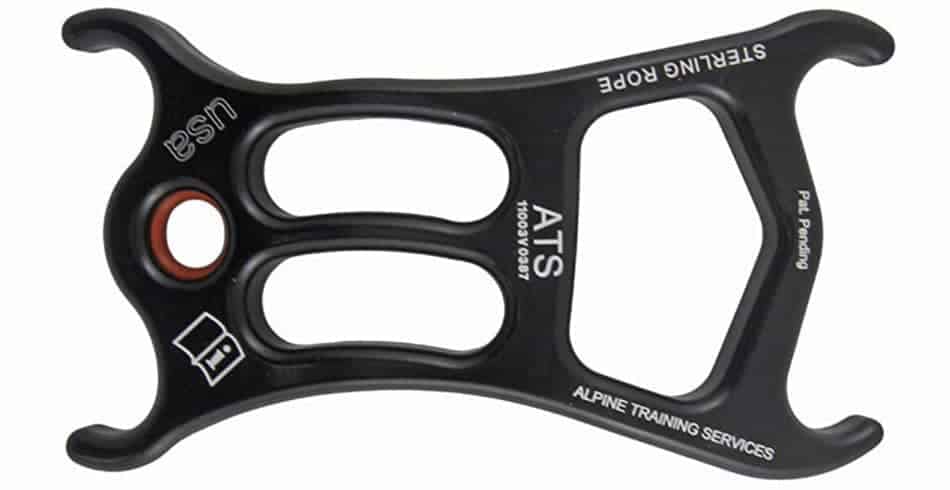 Cost: $39.95
Buy from: https://trekamaze.com/go/sterling-ats-device—black
Advantages:
Easy double-rope rappelling thanks to the two-slot design
It is also possible to use the device as a belay by using the middle slot
Various friction levels are produced by four horns mid-rope
Disadvantages:
Smaller carabiner holes are only suitable for specialized equipment.
This device has lesser features compared to the above mentioned devices
Soft metals wear out quickly if exposed to water and sand
Verdict:
ATS got the ability to perform dual-strand rappels, which is basically the most important requirement for being one of the best rappel devices and it also has four horns on the main body which allows hem to adjust levels of friction.
The main advantage that the Sterling ATS is that it can double as a belay device and ATS is considered as the one and only device on the market right now that is made by a trusted manufacturer that allows for complex rappelling techniques while also functioning as a belay device.
There are quite a number of flaws which starts with it's shape the flat shape, wide, capped on every corner by a horn, makes it bulky and awkward to carry and it also has poor ergonomics, and it can be quite troublesome if you are trying to feed rope on a belay. More importantly, its carabiner hole is too narrow to accept most standard carabiners.
This lightness, however, comes at the cost of durability because if you are rappelling in places where you are going to be encountering sand and water, or other coarse materials, then in these type od circumstances ATS wears down quickly in areas that experience a lot of friction.
The Petzl Stop Descender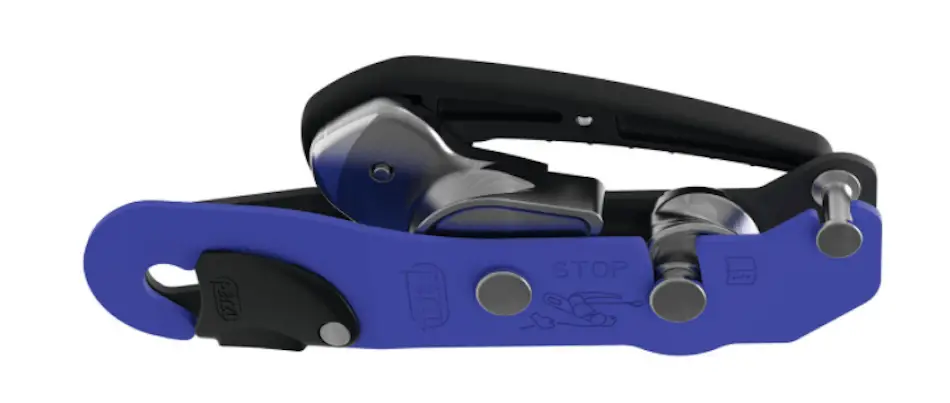 Cost: $189.95
Buy from: https://www.mec.ca/en/product/6001-793/Stop-Descender
Advantages:
Auto-locking feature that will catch you if you let go of the rope
The design is solid and durable
Works with muddy, wet, clogged ropes
Disadvantages:
These can be quite expensive
These can be really heavy and not intuitive to use
Most rappels might not need this
Verdict:
The Stop Descender are built for canyoneers, cavers, and professionals. Descender is probably the most hardcore device out there with auto locking, camming device, stainless-steel design, and deadmans switch to spot you if you take your hands off the device. Descender is actually designed to ensure that you get to the bottom of the rope safely no matter what the circumstances might be.
First of all, it's absolute bomber as you don't really have to worry about breaking it, bashing it against rock, or accidentally dropping it off a cliff. On top of that for first time rappelers or those who are kinda scared of dangling their life off of a piece of rope, the Stop Descender feels really solid in your hand as it is about 5 times heavier than most of the other devices on this list and looks lot sturdier than something like the PIRANA.
Finally, the Petzl Descender might be the best device out there for handling wet, dirty, or mud-clogged ropes and because of the internal camming devices, you don't have to worry about how the condition of the rope will impact your ability to control the descent.
The main drawbacks of the Descender are how heavy it is and its limited ability to perform dual-strand rappels and even , it cannot be used for belaying, so it's not a multi-purpose device at all and it has limited functionality in a lot of instances.
The Edelrid Giga-Jul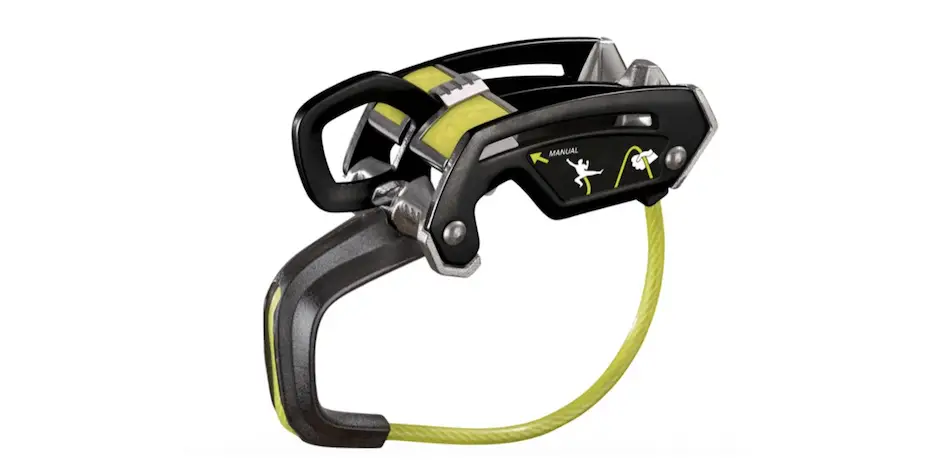 Cost: $59.95
Buy from: https://www.rei.com/product/150387/edelrid-giga-jul-belay-device
Advantages:
It works well for multi-pitch, single pitch, and trad climbing
Functions as both a manual belay device and braking
Allows to have more control on rappels
Disadvantages:
Unique design can give hard time
There is no varying friction levels
Verdict:
The thing about the Giga Jul is that it's a generalist device, but it can perform any one function 95% as well as the specialists can and it is absolutely not as good for belaying single-pitch sport routes as a gri-gri, but it's the next best thing. They are a bit bulkier to carry than an ATC, but the difference is by a fraction of a pound.
The Giga Jul can do all of those things, but it also has the ability to add in an assisted-braking feature if you're dealing with more technical terrain say you want to lower yourself halfway before stopping to take some pictures or you are rappelling down a route while collecting gear, so by using the assisted-braking mode on the Giga Jul and you can make it easily to hold yourself in place with only one hand.
The main weakness of the Giga Jul is that its design can take a little bit of getting used to because playing out slack while lead belaying feels awkward even rappelling with the auto-lock engaged will take some getting used to and these flaws are something that you can iron out in the climbing gym and for rock climbing, Giga Jul should be the top choice.
Best Device for Canyoneering: The SQWUREL 2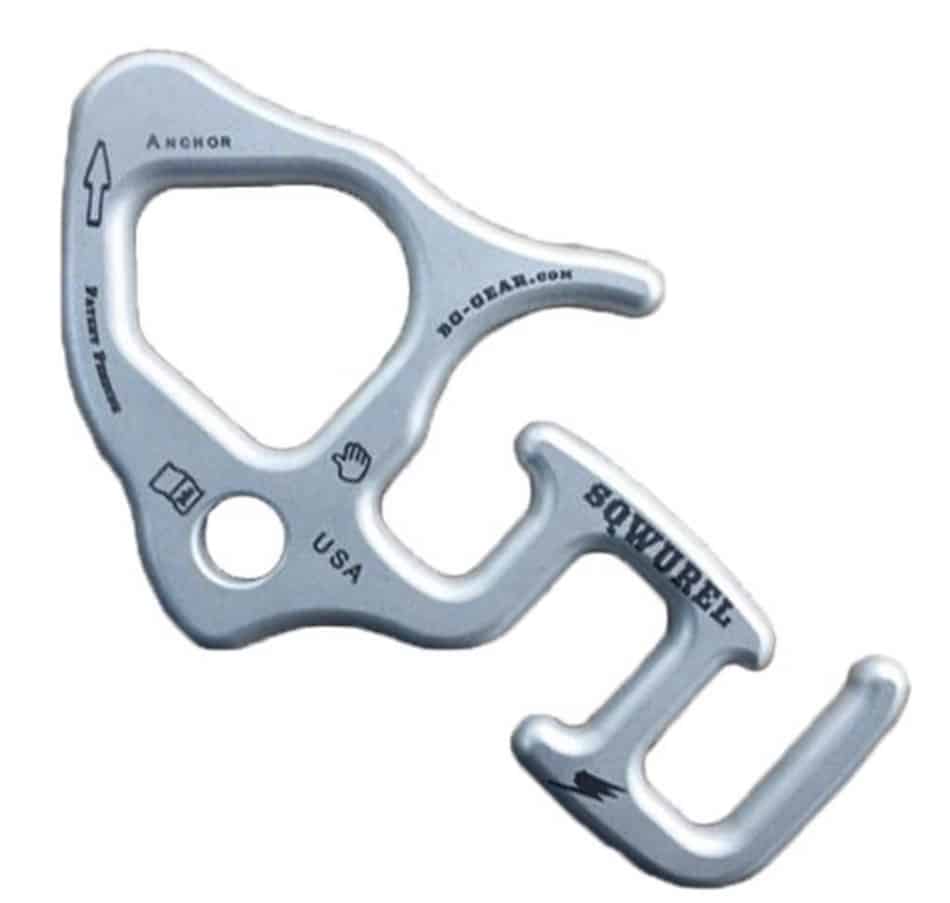 Cost: $52.50 USD

Buy from: https://www.adventure.plus/shop/c/p/SQWUREL-2-x12765985.htm

Advantages:
The tail design allows friction to be increased or decreased as needed
Rope retention nub improves tail length.
Its narrow, compact design makes it less likely to catch on other equipment
Disadvantages:
Unlike other devices, it is expensive
For people who are left-handed, asymmetrical design can be problematic.
Verdict:
The SQWUREL 2 is a funky little device, named after its distinctive head and tail design and is cleverly designed to allow for easy on-again, off-again adjustments to your friction levels via the 'tail' at the end. This allows you to simply slip the rope over it to add some stopping power to your rappel.
The SQWUREL was built specifically for canyoneering. The SQWUREL just does everything better than other devices, and it requires less features to do so. No other device can stand a chance in case of rope control because it is got cleverly designed features, a streamlined look, and extra material in key friction areas.
The device isn't perfect because SQWUREL's asymmetric design made it harder to use for people who are left-hand dominant.
The SQWUREL is not set up to support belays, so it won't help you if you ever need to go upwards and also it is not as compact as something like the ATC, so carrying it on all-day missions as a backup can't be possible. Lastly then can actually be a little confusing to use, so for first-time climbers it might not be the best option.
The Black Diamond ATC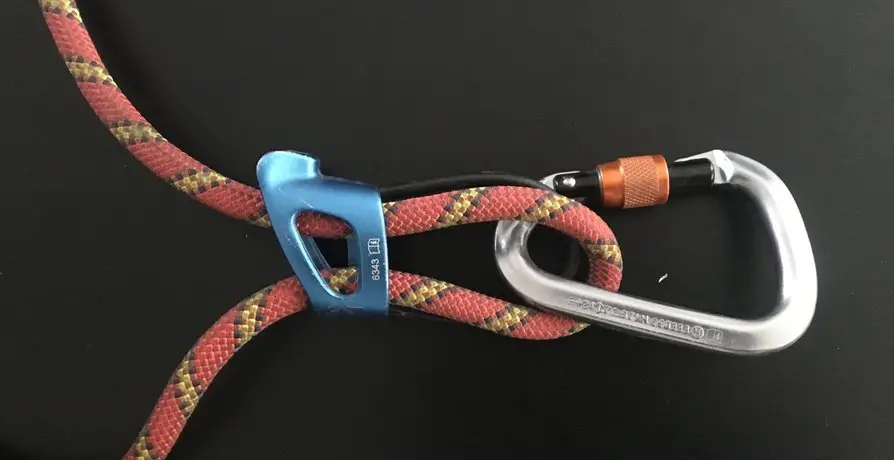 Cost: $25.95
Buy from: https://www.blackdiamondequipment.com/en_CA/search?cgid=belay-rappel
Advantages:
The best device for all purposes
Almost every situation can be handled with it.
Durable and rugged
Disadvantages:
A mid-rappel adjustment is not possible
Rope twist is more likely to occur
There would be less control
ATC are durable, easy to use, portable, and super versatile. The ATC will perform everything for you such as multi-pitching, sport climbing, dual-strand rappelling or any other variety of activities and it is just weighs 80 grams therefore you can't give us the excuse of heaviness.
As every coin has two side, like that ATC also has some flaws which are that it doesn't allow you to adjust your friction mid rappel and even it doesn't really allow you to adjust your friction at all, you have no option to 'lock off' your rappel mid-air as well therefore there are no rests when using the device.
ATC can't be declared as safe because it has no extra friction loops, no auto-locking feature, and no backup mechanism and all of this can make rappelling far more dangerous and in top of that if you are a beginner, the ATC might not be the best device to learn how to rappel on because it is really hard to control your speed on them.
Frequently Asked Questions (FAQs):
What type of devices can be used as a rappel device?
Use ATC's for rappelling because ATCs are the most common type of rappel device used nowadays because they can be used for both rappelling and climbing.
Can you rappel on a GriGri?
Though lots of people won't try rappelling on Gri Gri, but we would say that you can rappel on Gri Gri. But you should try ita climbing gyms first.
Can you rappel with a belay device?
Yes you can rappel using a belay device.
How do I use a GriGri belay device?
To know how to belay by using a Gri Gri device, check out this video.
Which Petzl GriGri is best?
Petzl Gri Gri 2 is considered to be the best of all other Gri Gri.
What is difference between GriGri and GriGri plus?
The difference between Gri Gri and Gri Gri plus is that the GRIGRI + can handle ropes between 8.5mm and 11mm in diameter, providing optimal performance with ropes between 8.9mm and 10.5mm but the gri gri is made for ropes between 8.9mm and 11mm, and is optimized for ropes between 9.4 and 10.3mm.
What is the best GriGri?
Petzl Gri Gri 2 is considered as the best Gri Gri amongst the all.