Olympics is really close enough and more people are getting busy with sports. That being said, in the sport of climbing, some invariable questions is popping up like "who is the best climber" & " Is Adam Ondra the Best Climber in the World?".
Therefore today we will discuss that, is Adam Ondra the best climber in the world? The answer to this will be yes currently, Adam Ondra is the best climber alive as he has done the hardest routes as well as ascending a wide variety of cutting-edge climbs in different styles.
Although there are numerous strong climbers out there, we have no doubt that Adam Ondra deserves to be crowned as the best climber in the rock climbing world. Not only has he been setting standards for nearly a decade with his first ascents of La Dura Dura 5.15c, Change 5.15c, and Silence 5.15d, which were actually the hardest climbs in the world. Adam Ondra has even shown talent in all facets of climbing like big wall bouldering, routes, and off-width cracks.
The Case for Adam
It is really hard to crown someone the 'best climber' in the world, because there are so many elements to the sport and even there are so many good climbers out there. Very rarely in climbing history has there been one stand-alone consensus best who has also beat legends like Chris Sharma and Tommy Caldwell as well.
With Adam Ondra, though, we don't think there's a single soul in the climbing community who would dispute the claim that he is the best climber around right now. There are four main reasons that people consider Ondra the current hero in the climbing world:
Resume: Ondra has done more hard climbs than any other climber alive and by a massive amount.
Technique: Adam is a highly technical climber whose efficiency is miles better than any other rock climber.
Competition history: For half a decade, Adam Ondra has been showing how excellent he is when put head-to-head with some of the other current greats.
Variety: As we have already said Adam Ondra dominates all aspects of climbing.
Resume
The first thing to talk about when you are making the case for Adam Ondra, and probably the one that most clearly depicts his excellency in the climbing world, is his resume.
We could always talk about his achievements, but it is better that we show you his greatness. This following graph, provided by Rock and Ice, shows how many hard climbs, which climbs that graded 5.15 or greater, Adam Ondra has done compared to other rock climbers in history: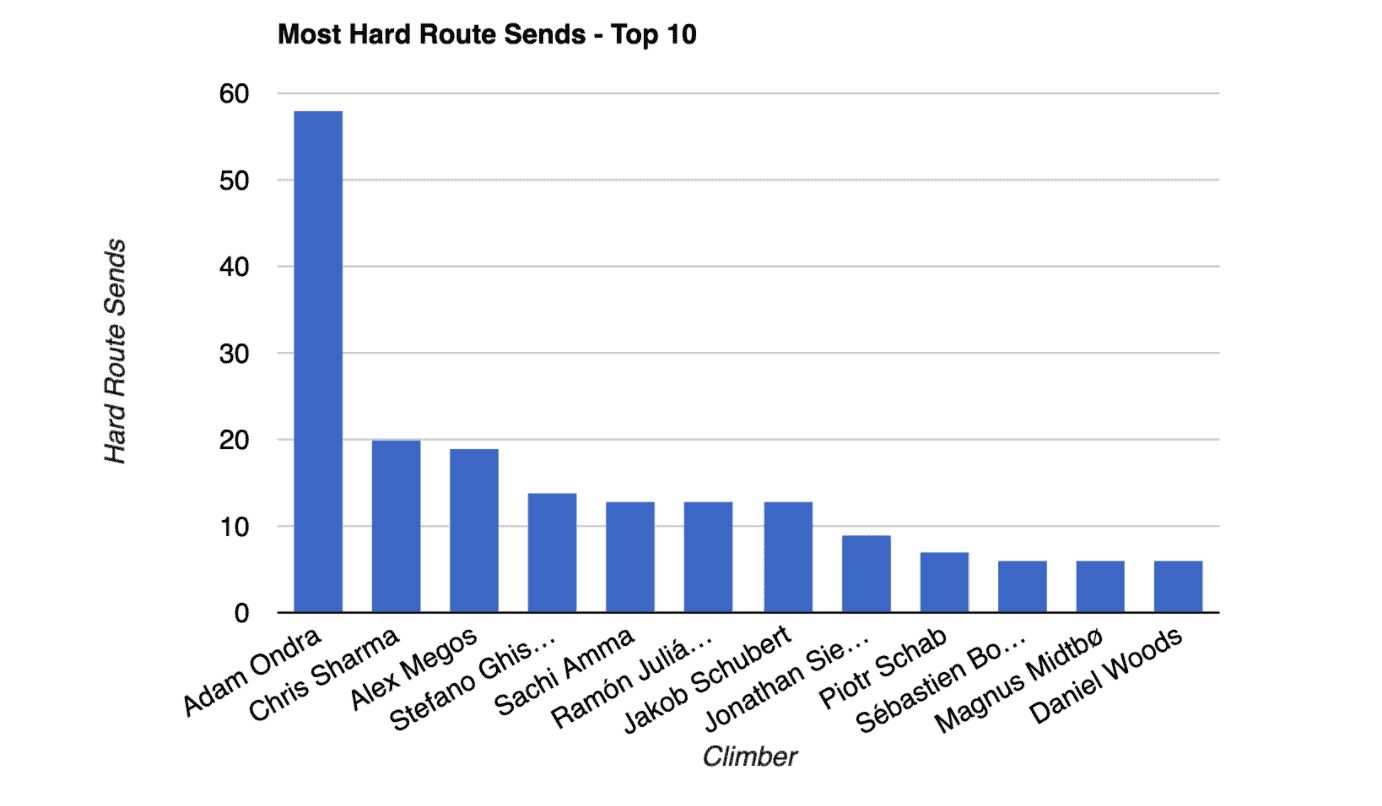 Right, it is completely insane. Ondra has three times as many hard routes as Alex Megos, who most people would consider the only person close to Ondra in terms of skill nowadays. This is completely unbelievable, it is a level of domination that we have rarely seen from any athlete.
Also, Adam Ondra has established two new grades, 5.15c and 5.15d and every time you establish a new grade it is going to automatically put you in the conversation as one of the greatest climbers of all time and our Adam Ondra has done it twice with Change and Silence, respectively. The completely unbelievable number of hard routes that he has done compared to everyone else, is a clear indicator that Adam Ondra is on a different level.
The video of Silence:
Technique
Adam Ondra's technique is something that sets him apart from the rest of the crowd. Ondra has an incredible ability to move efficiently, keeping the weight off of his hands and exhausting as little energy as possible.
Climbing like this allows Adam Ondra to send harder routes than everyone while not being as strong as them. Then can you imagine, how good would he would be if he got stronger?
Competition History
Although the inclusion of competitions as a metric of greatness is still somewhat controversial in the climbing world, as climbers are pretentious, we think it is perfectly valid to bring up. As we have all known since childhood competitions are the best place to see how climbers stack up against each other, this is because you get to see them compete against each other on the exact same route under the same conditions and every time in that scenario, Adam Ondra has dominated.
In the past 10 years, he has won 33 medals in various climbing competitions and this feat is extra impressive when you consider the fact that, when he was doing that, he was also training to climb the hardest outdoor routes in the world.
There have been several competitions where Ondra has simply looked to be on a different planet than everyone else, showing how much better he is, one such example othe one of this would be the 2016 Paris World Cup, the 2019 Kranj lead world cup, and the other onw was in 2019 Meiringen Bouldering World Cup.
Variety
Finally we come to the variety of Adam Ondra's achievements. This is the thing that really sets him apart from the rest of the great climbers in the history of rock climbing. As we have seen throughout time, most of them have been specialists: Wolfgang Gullich crushed sport routes, Jim Bridwell did dangerous aid climbs, and Tommy Caldwell is the ruler of the big wall.
Adam Ondra, on the other hand, does it all. Keeping aside his sport climbing achievements, he has:
Repeated the Dawn Wall, which took Tommy Caldwell 7 years to climb, Ondra took three weeks to climb it.
Sent Belly Full of Bad Berries
The first person to flash a V14 boulder problem becoming
Put up numerous first V16 bouldering problems
That's absolutely incredible for someone who is supposed to be a sport climbing specialist as we have rarely seen someone with the variety of skills that Adam Ondra possesses.
Will Adam Win the Olympics?
Another question that we can see is coming up a lot is whether or not Adam Ondra will win gold at the Olympics.
So, will Adam Ondra win the Olympics? No, Adam Ondra is not favored to win the Olympics, however, Tomoa Narasaki will most likely get the gold medal.
Now, it might seem contradictory because in this article we are declaring him as the best climber, then again we are saying that he will not be receiving the Olympic medal. Well, the answer to this is because while Adam Ondra is an amazing all-around climber, Tomoa Narasaki, his main rival, is born for competitions and because of the combined formatting of the Olympics, Adam Ondra will not only need to compete in bouldering and lead climbing events and he will also need to compete in speed.
Speed is Ondra's only weakness, and his inability to post times under 7 seconds will most likely cost him the gold medal.
Frequently Asked Questions (FAQs):
Who is considered the best climber in the world?
Adam Ondra is the best climber alive as he has done the hardest routes as well as ascending a wide variety of cutting-edge climbs in different styles.
Who is the world's best free climber?
Alex Honnold is considered the best and most inspiring free climber of the present climbing generation. In June of the year 2017, he climbed El Capitan in the Yosemite Valley on the Freerider route without rope or protection, and climbing this 1,000-meter wall-free solo also gained him overnight fame.
Who is the most famous rock climber?
Alex Honnold is definitely the biggest climbing star of any time period and is known for his spectacular free solo climbs, however, Honnold estimates that only around 5% of his ascents are free solo, so if we talk about rock climbing it is literally impossible to talk without mentioning his name.
Is Alex still with Sanni?
Alex Honnold is not a solo anymore. The Oscar-winning rock climber and his fiancée Sanni McCandless got married on 13th September 2020, in a small family ceremony on the shores of Lake Tahoe, CA.
How much is Alex Honnold worth?
Alex Honnold is almost certainly the most highest-earning rock climber on the planet as his net worth at around $2 million.
What is Alex Honnold's salary?
Honnold is certainly the highest-earning rock climber on the planet with his net worth at around $2 million.
What rock climber died?
Brad Gobright was a world-class free solo rock climber who fell to his death, Brad was a remarkable rock climber who fell 1,000 feet to his death in northern Mexico
Is Alex Honnold better than Tommy Caldwell?
While Alex Honnold's feat is remarkable, Tommy Caldwell simply spent more time, energy, and skill creating a completely new route that had never been attempted and is much less conceived to be possible. Caldwell completed at least four first ascents on El Cap before so the point goes to Caldwell.
Did Alex Honnold marry his girlfriend?
Alex Honnold married his Girlfriend Sanni McCandless on 13th September, 2020 in a small family ceremony on the shores of Lake Tahoe, CA.
Is Alex Honnold vegan?
Yes, Alex Honnold is vegan as he sticks to a vegetarian diet that mostly eschews dairy, with the very common exception of the odd mac and cheese.
How much is Chris Sharma worth?
Chris Omprakash Sharma's net worth is around $5 million.